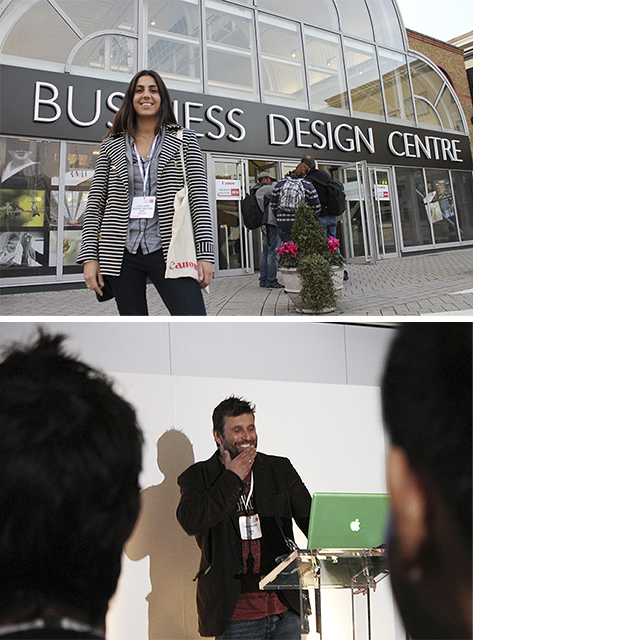 Photography Course London's marketing and administration assistant Leela outside London's Business Design Centre and filmmaker Philip Bloom having a giggle at his seminar.
The vibes were positive at this year's Canon Pro Photo Solutions event. All focus was on creating stunning imagery through the medium of photography and film and guess what..Canon can provide everything you need.  From high quality lenses for shooting in continuous light and time-lapse gadgets such as the Canon Timer Remote Controller, to HD video cameras and top of the range printers.
In the seminars, Kevin O'Connor, founder of the London Photographic Association pressed the importance of knowing how to market yourself in the digital age, and discussed his dedication to providing a professional online platform for photographers.
Dan Chung, Guardian photojournalist demonstrated his move into cinematic journalism which pushes the boundaries of traditional televisual reportage.. and quite obsessively always makes sure his kit fits 'in one bag'!  The popular filmmaker Philip Bloom raved about filming on a Canon camera 'guerilla style' and warned everyone that it's not easy equipment to use and takes practice. Lastly, advertising photographer Clive Booth impressed all with his story of following his passion for photography by moving swiftly from graphic designer to shooting high end fashion and make up.