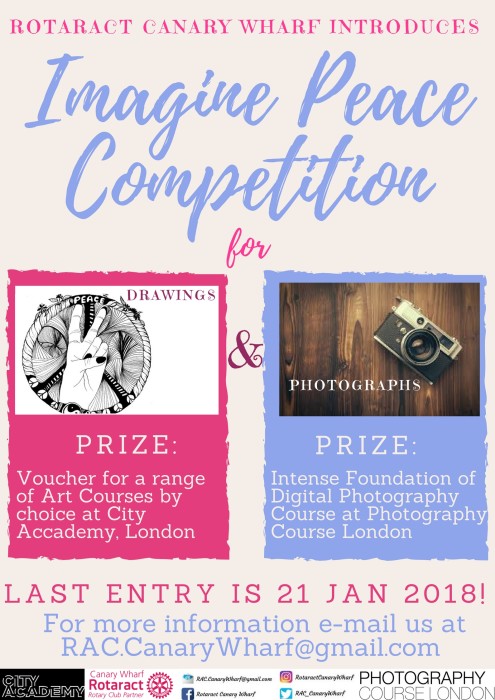 Rotaract Canary Wharf invites you to take part in their drawings/photography competition on the theme 'Imagine Peace' !
Submit your 'Imagine Peace' drawing, photograph or both and you will have the opportunity to win some amazing art courses, provided by their sponsors (us included)!
At the end of the competition, the best drawings and photographs will be displayed during an exhibition/cocktail event and all guests will have the opportunity to buy these pieces of art.
All money raised will go towards sponsoring War Child so that we can all help children suffering through war.
By participating in this competition you will have the opportunity to help spread the message of peace but also donate your drawing/photograph to raise money for those who suffer through war conflicts. This is what makes the project different 
Prizes include a voucher worth £500 for courses at City Academy and a voucher to attend the Intense Foundation to Digital Photography Course at Photography Course London and more!
All you need to do is read the terms and conditions and fill in the registration form to submit your entries.
You can find all details, terms and conditions at the following link: T&Cs
Enter the competition using the registration form: Enter
Email – rac.canarywharf@gmail.com if you have any questions 
Deadline for submissions – Wednesday 31 January 2018
Good Luck!